Social Media Trends and Marketing Opportunities for Corporate Brands
Social Media platforms present new opportunities to forward-thinking organizations. 
 Twitter, Facebook, Foursquare, LinkedIn, etc each offer unique opportunities. A proactive strategy that leverages the demographics, user behavior and relationship with other social platforms is key to generating true results.
Studies show that 90% of consumers trust recommendations from friends over any form of advertising.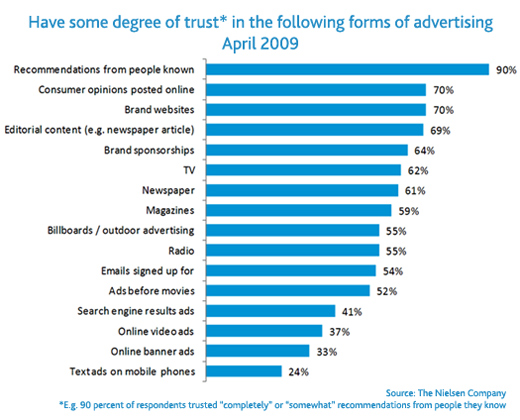 Social media is where friends, even friends of friends, connect. A proactive social media marketing strategy on social media platforms facilitates brand awareness and promotions to grow audiences, and promote clicks and conversion.
Your customers are online, using social media, and studies show they are more likely to purchase after becoming a fan or follower. The opportunities are ripe, for those who are prepared to cultivate and reap them.
Leverage Social Media Marketing Trends
Studies show how Social Media is capturing the attention and budgets of markters. Marketing executives recognize the opportunity in social media, at least in concept. A Setember 2009 survey of CMO's (Chief Marketing Officers) from industries including software, travel and hospitality, media and publishing, finance and insurance, consumer goods and retail revealed their commitment to Social Media spending and expectations..
81% of CMOS expected to invest 10% of annual revenues to social media in 2010, a significant increase over the 44% expected to do so in 2009.
72% of those who did not attach revenue to social media spending for 2010 said they will do so in 2011.
64% of CMOs surveyed said that they plan to increase their social media budgets next year.
At least 50% of respondents expressed uncertainty about the ROI of social media networks.
We find this to be quite common. Mulit-national corporations to local franchises and small businesses, equally struggle with how they will make the investment in social media pay off and impact the bottom line.
How to Leverage Social Media for your Corporate Brand.
Truth is, many organizations struggle with the decision to engage socially, while others have jumped in, but their approach could be viewed experimental, at best, reducing likelihood of ROI or measurable results.