Search Engine, Social Media Optimization and Marketing Consultants
There are times when your organization needs an objective expert analysis, specific expertise, targeted services, or to ramp up to team quickly implement best practices and proven methods to leverage emerging opportunities.
Pursue Emerging Search, Social and Internet Marketing Opportunities
Few organizations have all the talent and resources in-house to be proactive, competitive and successful in responding quickly to develop strategies, methods and process to leverage all opportunities to promote Brand Awareness, Market Share, Search Engine and Social Media Visibility, Clicks and Conversion.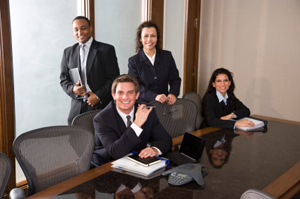 Efficiently Ramp Up And Integrate New Marketing Methods
As recognized experts in Search Engine and Social Media Marketing and Optimization, Karner Blue Marketing is available Virtually, or On-Site to offer years of experience and proven methods to help your organization achieve the results and ROI desired.
Virtual Marketing Consulting Saves Time and Money
As "Your Virtual Marketing Partner" we are accustomed to working with clients from around the world virtually, utilizing webinars, conference calls and other online platforms. Our process has been finessed over the years to make the most of every marketing minute, dollar and resource invested. Less time is spent on travel so more time and energy is directed toward your mission and marketing objectives.
Leverage the experience of experts with mastery of proven methods to achieve immediate and long term goals. Virtual Consulting is structured around your goals, deadlines, budget and availability of resources.
Virtual Marketing Services are Flexibile
Karner Blue Marketing's Virtual Marketing solutions include:
Phone Consultations
Webinar Presentations
Analysis and Reporting
E-Business Strategy
SEO or Social Media Strategy
Search Engine Optimization Consulting or Training
Ready to Deploy Search Engine, Social Media, Internet Marketing Optimization Plans
Websites, Blogs, Press Release SEO Copy writing Services or Training
SEM PPC Analysis, Optimization and/or Management
Website Internet and Mobile Platform Usability, Accessibility
Conversion Analysis and Recommendations
Ongoing Analysis, Reporting and Recommendations
Working with Agency, Vendor, Internal Teams and C-Level Executives
Virtual Consulting is often complimented with on-site meetings to facilitate relationship-building, strategy development, to achieve best results from our collaborative relationship.