Rebecca Murtagh Invited to be the "Official Tweeter" for Silicon Brand Forum Social Media Event at Electronic Arts
Silicon Valley Brand Forum 
Rebecca Murtagh invited to be "Official Tweeter" for this Social Media Event. Electronic Arts (EA) was the venue where Silicon Valley brand managers gathered to hear thought leaders discuss Social Media and Brand Managment.
Electronic Arts, being a secure campus, did not offer attendees internet access, making the live tweets, featured on Rebecca's @VirtualMarketer Twitter Account the sole source of live updates, which were displayed using Twubs, a streaming tweet event application.
Tweeting about presentations has become a popular way for those who cannot attend the event to still read about presentations, ask questions and participate virtually.
Event Hashtag: #svbf
The hashtag #svbf was used to display the live stream of tweets on the large screen at the front of the theater. Rebecca's tweets, RT's and questions posted by the audience, where then presented to the panel by Rebecca and then discussed live with attendees and the virtual audience.
Topic:
Brand Management in the Social Media Jungle
Vendue: EA, Electronic Arts
Location: Redwood City, CA
Date: September 23, 2009
Jeanette Gibson, Cisco
Joel Postman, Socialized
Jaap Tuinman, Electronic Arts
Garnor Morantes, eBay
Steve Fansworth, Jolt Media – Event Coordinator
Rebecca Murtagh, Karner Blue Marketing – Official Tweeter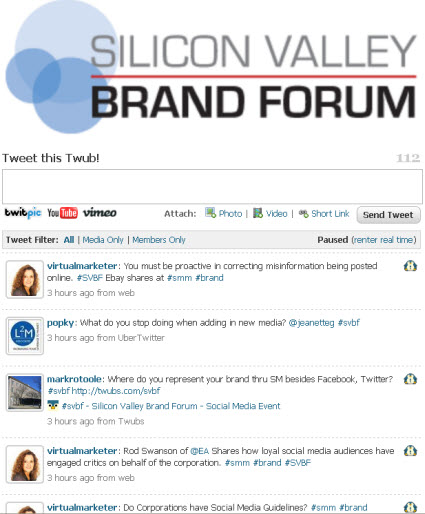 Thanks to Ian Griffin for event video and screen capture.