Karner Blue Marketing 2005 News and Events
February 2005
Karner Blue Marketing Strategiest Expert Judge for International Web Marketing Competition.
Rebecca Murtagh, Founder and Chief Strategist was invited to be an expert judge for the IAC Internet Advertising Competition, an international competition for web-based advertising excellence. Judging entries from 8 nations, Rebecca finds that the experience ads to her perspective of how technology is being used in B2B and B2C applications.
March 2005
The American College of Surgeons invites Rebecca Murtagh of Karner Blue Marketing to guest lecture about Search Engine Optimization and Marketing at the 2005 COSM Combined Otolaryngology Spring Meeting in Boca Raton, Florida.
Rebecca was invited to speak to attendees of the annual conference about "How to get noticed on the Internet" with specific industry case reference and recommendations for leveraging the Internet as a marketing tool to grow and support their practice.
May 2005
Karner Blue Marketing sponsors the Pine Bush Lupin Festival by donating "Butterfly Kits" to benefit the Discovery Center.
"I have memories of coming to the Pine Bush since I was a young girl", says Rebecca Murtagh, Chief Strategist and Founder of Karner Blue Marketing, named after the Karner blue butterfly, the endandered butterfly who resides in the Pine Bush.
The Karner Blue Marketng team constructed Butterfly Kits complete with lupine seed, a butterfly magnet and appreciation certificate. "It was our way to make a small contribution and help area residents to feel more connected to this rare and unique space", explained Ms. Murtagh.
June 2005
Karner Blue Marketing Develops, Deploys and Markets United State's 1st Long-Distance WiFi Internet Enabled Commercial Commuter Service.
Karner Blue Marketing was selected by Albany NY Bus Company to develop a search and internet marketing campaign. While developing the marketing strategy, Karner Blue Marketing Founder Rebecca Murtagh approached Technologist Hugo Walpurgis with the challenge of how to develop, install, test and market a long-distance moil Wifi Solution.
Never done over long distance, Murtagh believed that if Google could offer it to commuters around the San Francisco Bay area, there had to be a way to expand the concept over the commute between New York State's Capital Region, Albany and New York City and surrounding airports.
Karner Blue Marketing created, tested and launched he First long-distance Wifi service and, making the commuter service attractive enough for Albany Intenational Airport to offer NYC commuters.
This revolutionary transportation story received local, regional, state-wide and national media coverage. This accomplishment likely changed the way the transportation industry viewed wireless internet access for travelers. 
After holding a press event at the Albany International Airport, the news was viral, offering widespread media coverage. Social media discussion, even in these early days of Web 2.0, and sparked excitement in Transportation, WiFi and technology industry websites, portals, blogs and forums.
This campaign went on to win the AMA "Mark of Excellence Award".
See below for more on this award…

 August 2005
Rebecca Murtagh, founder and chief strategist of Karner Blue Marketing of Albany, NY Return for Third year as Expert judge for the Web Marketing Association's International Website Competition.
"Having judged dozens and dozens of web sites on pre-determined criteria over the past few years, I have developed an in-depth understanding of appropriate use of design, functionality and emerging technologies as they relate to achieving the organization's stated goals for the web site, rather than simply using design or technology just to have them,", explains Ms. Murtagh.
Ms. Murtagh states that the experience has heightened her ability to assess, evaluate and improve the performance of client websites as they relate to their business objectives.
The Web Marketing Association's "WebAwards" International Website competition receives website submissions from 85 industry categories from 33 countries worldwide. "WebAward" entries are submitted by interactive agencies, website owners, or in-house marketing and e-commerce departments.
Click to view this year's winners.
September 2005
Rebecca Murtagh, Chief Strategist of Karner Blue Marketing invited to speak about
"How to get Noticed on the Internet"
A featured speaker at the AD FACS Business Communications Expo 2005, Rebecca Murtagh will speak at the Marriott in Albany, NY on Wednesday October 5, 2005.
Her third year presenting to the business professionals of the area, Rebecca will explore proven methodologies to support a website's search engine performance and various ways to drive qualified traffic from a targeted marketplace to a website, and support conversion of those website visitors to customers.
Click here to Register for this Ad Facs seminar.
September 2005
Karner Blue Marketing Wins Coveted AMA "Mark of Excellence" Award for Integrated Search, Internet, Publicity and Advertising Campaign
Karner Blue Marketing's campaign "Keeping You Connected"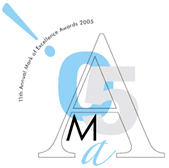 for client Albany NY Bus Company, headquartered in Brooklyn New York, has been recognized by the American Marketing Association's NY Capital Region Chapter as one of 10 finalists for the Annual Mark of Excellence Awards.
The Mark of Excellence is the NY Captial Region's premier event celebrating the marketing profession. This annual event, honors marketing professionals for their creativity and results.
Karner Blue Marketing and the other finalists will be recognized Nov 2 at the Mark of Excellence Dinner.
Click Here for the whole story on the AMA MOE website . . .
October 2005
Rebecca Murtagh, Chief Strategist of Karner Blue Marketing speaks about Search Engine Optimization and Marketing at PRSA – Public Relations Society of America.
Rebecca's presentation at the New York Capital Region's Annual Half-Day Seminar "Staying Ahead of the Curve: Current PR Trends and Emerging Technologies" was held on October 19, 2005 at WRGB ABC, Channel 6 Studios in Niskayuna, NY.Ms. Murtagh's popular seminar "How to Get Noticed on the Internet" was presented and well-received by Public Relations professionals of New York's Capital Region at this day of professional development.
November 2005
Karner Blue Marketing Wins prestigious American Marketing Association's "MARK OF EXCELLENCE" for campaign "Keeping You Connected" created for Albany NY Bus Company WiFi commuter service.
American Marketing Association's NY Capital Region Chapter invites marketing experts from around the country to judge entries for creativity and effectiveness. The "Mark of Excellence" or MOE honors local marketers for the most outstanding marketing campaigns of the past year.
Karner Blue Marketing was recognized Nov 2 at the 11th Annual Mark of Excellence Dinner at the Marriott, Albany NY.