Is It Time to Search Engine Optimize Your Website?
More than ever before, YOUR target customers are looking for services and products on organic search engine results FIRST, and more often, than any other resource, on or off-line. Good reasons to seek high rankings on search engines:
Of the 299+ million Internet users in the United States…1
91% use search engines to find information. 2
80%+ find businesses they'll patronize by using a search engine. 3
78% research a product or service before buying. 2
61% will make an online purchase. 2
In January 2010, 15.2 billion core searches were conducted in the U.S. alone. 4
Search engine share of those searches:
Google 65%
Yahoo 17%
Microsoft/Bing 11.3%

Google is the search engine website used most by internet and mobile web customers.
In real estate it's all about location, on the Internet it's all about visibility!
SEO, or Search Engine Optimization can improve search engine visibility to target audiences with strategic positioning to promote higher search engine rankings, clicks and conversion.
New Customers can't do business with you if they can't find your website!
Search Engine Optimization ( SEO ) is intended to improve your web site's visibility in natural or "organic" search engine keyword results on search engines like Google, Yahoo, Bing, Ask.com, AOL etc. Appearing in the top 5 search engine results is preferred, top 3 is considered successful and #1 position is highly coveted. Worth noting is that often the collective effective of high-ranking multiple keywords and phrases achieved through Long Tail SEO, will be as effective in driving clicks to conversion as primary keyword phrases.
3 Reasons Why You MUST Search Engine Optimize YOUR website!
It is widely known that consumers and businesses (your potential customers) are using search engines FIRST to research business or consumer goods and services online before making a buying decision. If you don't want to lose those customers to your competitors , it is imperative that your website be search engines visible.
SEO Will Deliver Results, When Done Properly
Search engine optimization, or SEO is something everyone thinks they have, until they realize what true optimization should achieve for them.
Search Engine Optimization: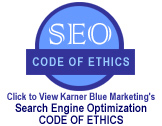 Karner Blue Marketing can help you improve your natural, "organic" search engine visibility to target audiences in one of three ways:
SEO Consulting
SEO RESULTS
EVERY business we have search engine optimized has achieved page 1 Google results. Our PROVEN search engine methodology is not based on just a handful of search engine keywords we pick because they are easy to achieve #1 ranking for (which many other SEO firms do, sadly). We conduct thorough research and then search engine optimize your website to attract clicks through hundreds to many thousands of keywords, depending on your market and how your audience uses search. (it's true!)
Karner Blue Marketing bases website SEO and Internet Marketing services on the research we perform to determine the keyword search terms their target audiences are actually using to find their firm, product, service or information.
With millions of websites to search from, it is imperative that your website be optimized to meet the search criteria of your target audience. We can search engine optimize your existing, new, redesign or in-development web site..regardless of who built your web site.
SEO Training

Karner Blue U was designed for the professional, or company wanting to develop SEO skills in-house. Website designers, developers, marketers and PR professionals find our SEO TRAINING programs highly effective in helping them understand and master search engine optimization of website designs, content, blogs, articles and publicity for their clients.
SEO Recommended Programs
Some businesses have limited budgets, timelines or resources to dedicated to SEO, so we have reviewed and presented reputable third-party SEO resources for our small business clients to consider. Corporate and Enterprise clients are encouraged to learn more about our expert strategy, consulting and custom training programs.
SEO of Previously Optimized Websites for Better Results
Your website may not be as optimized as you believe, or need it to be.
Very often, our SEO clients thought they were "optimized" because their website designer or developer told them they were. SEO is FAR more than plugging in some meta data. If your website designer has asked you to provide keywords, It is our experience that you it is 99.99% likely that your website is NOT search engine optimized to reach your target audiences in a way that promotes clicks and conversion.
Learn more about search engine keywords.
Search Engine Optimization is not for the faint of heart.
SEO requires ongoing, dedicated attention. Each of the search engines has their own rules and practices. If it is not done in accordance with their latest requirements or preferences, your site, or possibly all of the sites on the same servers could be permanently banned from certain search engines. We don't mean to scare you, but want you to appreciate how vital it is to execute correctly.
Search engine algorithms change frequently and vary from search engine to search engine.
Google is recognized to be the most difficult to optimize for, and sustain top search position for, beyond company brand or product/service name.
Karner Blue Marketing is an SEO / SEM Internet Marketing firm that specializes in search engine optimization, usability and conversion as well as Internet Marketing. Committed to maintaining most up-to-date insight on placement strategies, industry standards and legal practices, Karner Blue experts are ready to apply the latest effective techniques to help you maximize your online investment.
Karner Blue Marketing will expertly:
…Evaluate your current web site's performance on search engines as it relates to keyword search terms being used by your audiences to find your product or service.
…Develop your specific SEO positioning strategy relative to your organization's goals and competitive marketplace.
…Promote search engine "friendliness" through your site as part of a targeted, competitive positioning SEO strategy.
…Deploy Karner Blue Marketing's proven "White Hat SEO" search engine optimization methods to optimize search engine rank improvement.
…Establish SEO benchmarks for ongoing measurement to facilitate analysis and demonstration of immediate and long-term results.

Request Information or a Quote Today!
References:
1. Nielsen/Net Ratings September 2006.
2. December 2006 Study by Pew Internet & American Life Project.
3. Small Businesss Information Center August 2005.
4. Comscore January 2010 Search Engine Share