Should You Search Engine Optimize Your Website?
More than ever before, YOUR target customers are looking for services and products on search engines FIRST and more often than any other resource. (see statistics below)
In real estate it's all about location, location, location.
On the Internet it's all about visibility, clicks and conversion!
Customers can't do business with you if they can't find your website!
Search Engine Optimization ( SEO ) and Search Engine Marketing ( SEM) improve your website's natural or "organic" search engine keyword rank search engines like Google, Yahoo, MSN, Ask.com, etc.
It is widely known that consumers and businesses (your potential customers) are using search engines FIRST to research business or consumer goods and services online before making a buying decision. IF you don't want to lose those customers, especially to the competitor that they DO find on the search engine, it is imperative that your website be search engines visible. (see the chart below for recent statistics)
Search engine optimization, or SEO is something everyone thinks they have, until they realize what true optimization should achieve for them.
Our Search Engine Optimization Services include:
SEO Consulting
SEO Training
Your website designer says your website is "optimized", But is it . . . Really?
Your website may not be as optimized as you believe, or need it to be.
Very often, our SEO clients thought they were "optimized" because their website designer or developer told them they were. SEO is FAR more than plugging in some meta data. If your website designer has asked you to provide keywords, It is our experience that you are 99.99% likely NOT optimized to reach your target audiences.
Learn more about search engine keywords.
So far EVERY business we have search engine optimized has achieved page 1 Google results.
Our PROVEN search engine methodology is not based on search engine keywords we pick because they are easy to achieve #1 ranking for (which many other SEO firms do, sadly).
Karner Blue Marketing bases website SEO and Internet Marketing services on the research we perform to determine the keyword search terms their target audiences are actually using to find their firm, product, service or information.
With millions of websites to search from, it is imperative that your website be optimized to meet the search criteria of your target audience. We can search engine optimize your existing, new, redesign or in-development web site
…regardless of who built your web site.
Here are some good reasons to seek high rankings on search engines:
of the 299+ million Internet users in the United States 1 . . .
• 91% use search engines to find information. 2
• 80%+ find businesses they'll patronize by using a search engine. 3
• 78% research a product or service before buying. 2
• 61% will make an online purchase. 2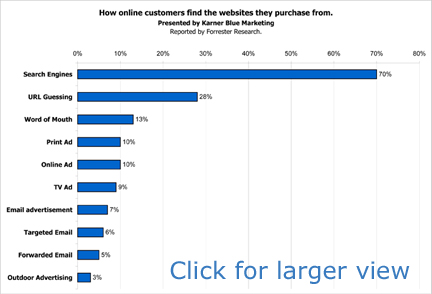 1. Nielsen/Net Ratings September 2006.
2. December 2006 Study by Pew Internet & American Life Project.
3. Small BusinesssInformation Center August 2005.
Getting qualified visitors to your website is the first step.
Contact us to learn more.